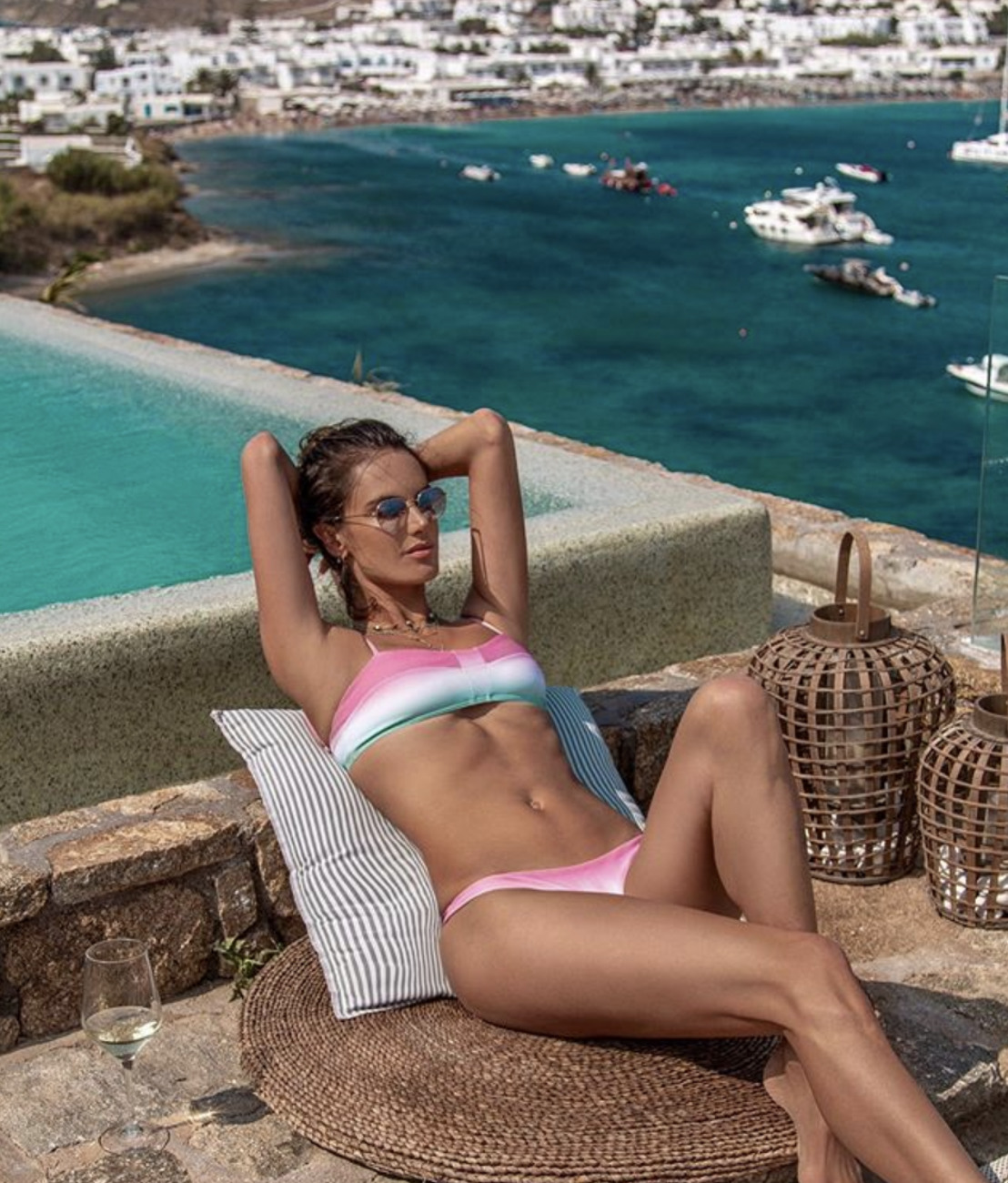 Why Alessandra Ambrosio Fell in Love with Mykonos
Friday, 26 July 2019 — On the lively, star-studded Mykonos coast, the island's most talked about hotel group is creating waves. Alessandra arrived at the stylish Kenshō Boutique Hotel and Suites for sundown on Monday the 15th - with her family and friends in tow.
The perfect antidote to an A-lister island getaway, Kenshō Psarou – as well as its sister property Kenshō Ornos – are two lavish sea-facing hotels that are the pinnacle of Grecian luxury and are as much about being exclusive as they are being homely.
Picture the scene: a stunning collection of 35 rooms and suites, each individually designed and furnished to the highest of standards; ethereal cave spas and sea-spying outdoor pools are the highlight of the hotel - the pool is then edged by chic sun loungers, and is where crème de la crème residents like Ambrosio especially like to retire to.
Ambrosio, the heartthrob who spent five sunny days staying as a guest in the Kenshō Ornos Villa, is an attractive Victoria's Secret model and TV personality who hails from Brazil. Whilst subtly updating her Instagram feed with bohemian-style shots as well as melting sunsets around the island, she sets the precedent of what celebrity holidays should look like, both in terms of comfort and class.
It was no surprise that Kenshō Boutique Hotel and Suites was a magnet for this island retreat. As a hotel group, it has an outstanding reputation for hosting global stars such as Paris Hilton and Lindsay Lohan.
Its ritzy vibe and cosmopolitan concept of 'home' and 'hotel' is something which has always overlapped, attracting the stars from the get-go. Jumbo private villas - such as the one Ambrosio stayed in with her family - are a tumbling distance away from the oceans edge and can be rented for slightly under £5k per night in high season.
ENDS
Note to editors:
Kenshō Boutique Hotel and Suites is a five-star hotel group and a favourite amongst celebrities for its intimacy, privacy and unmatchable hospitality services. Ambrosio stayed at the Kenshō Psarou Villa and spent a majority of her stay enjoying the exclusive amenities at its much desired waterfront counterpart, Kenshō Psarou.
Kenshō Psarou nudges the most cosmopolitan beach on the island, of the same name. Whilst visiting, Ambrosio wiled out her days, simply relaxing by the sea as well as eating with friends and getting to know the friendly staff. Kenshō Psarou was recently awarded Greece's Leading Boutique Hotel.