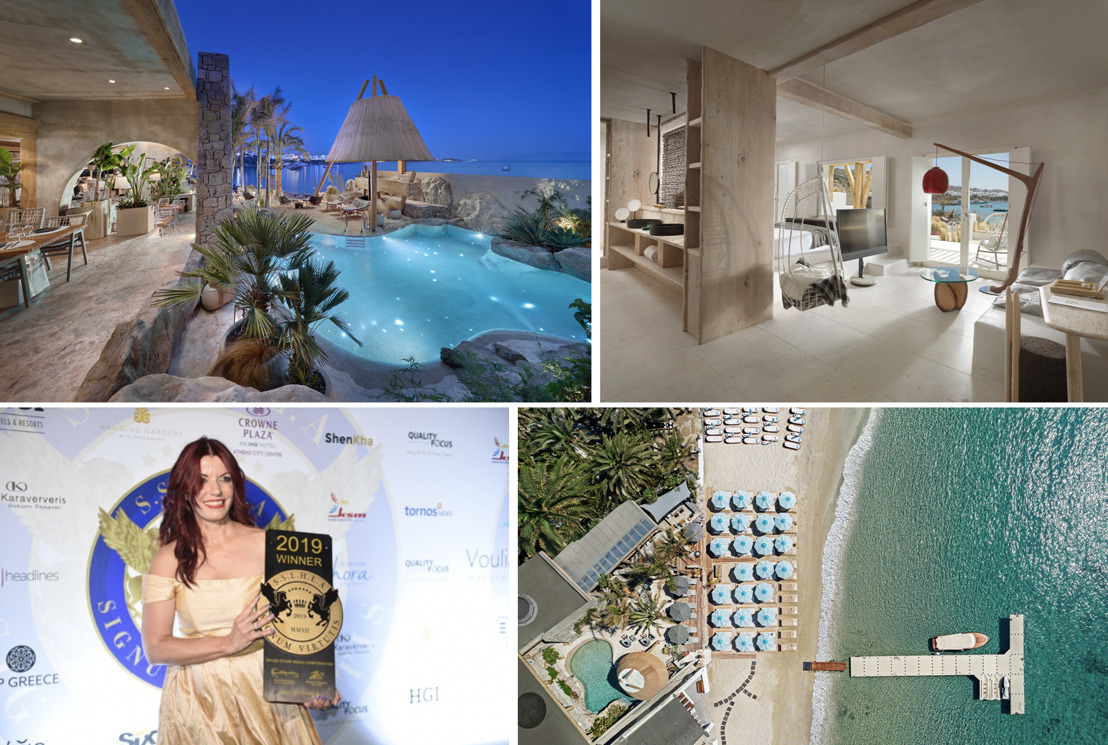 Kenshō Boutique Hotels & Villas Rounds off 2019 in Style!
Thursday, 17 October 2019 — As the 2019 season comes to a close, Kensho Boutique Hotels & Villas, Mykonos' most important collection of 5* properties, celebrate another incredible year. From a glut of awards to hosting the world's elite, the group has been truly unstoppable in 2019, creating a new kind of luxury hospitality.
Starting the year on a high, Kensho Psarou won the accolade of 'Greece's Leading Boutique Hotel' at the 2019 Travel Awards, before the hotel had been open for a full year. It just goes to show what a key addition Kenshō Psarou is to the island of Mykonos and a true testament to the incredible location and five-star facilities.
As natural stone and aged wood blend with Aegean architecture, illustrating the power of chic minimalism, it's no wonder Kenshō Psarou also picked up two 'Best Design Hotel' awards this year! Each room constitutes an art space and items in the property are all unique pieces of artwork and design.
Kenshō was once again recognized for being a top gastronomic destination. Chic comfort dishes blending Greek, Peruvian and Japanese flavours proved to be a real hit at Kenshō Psarou Restaurant this year as the resort picked up 'Best Greek Hotel Dining Experience' at the Greek Hospitality Awards.
As well as winning 'Best New Greek Boutique Resort' and 'Best Lifestyle Hotel' Kenshō Psarou massively celebrated the Special Award of 'Lifestyle Boutique Hotel & Villas' of the prestigious Seven Stars Awards!
The beautiful Psarou Beach has long been attracting the rich and famous but with the opening of Kenshō Psarou, the beach has seen an influx of well-known celebrities.
Victoria's Secret model and TV personality Alessandra Ambrosio most recently enjoyed the Kenshō Ornos Villa with family and friends, updating her Instagram with Kenshō's gorgeous backdrops and showing the world how much she enjoyed lounging by the 'starlight' infinity pool.
It's been another big year for the group, but they are just getting started. With plenty more luxury experiences to offer in 2020, there's no better time to book your stay!
Book your stay for 2020 at kenshomykonos.com.
ENDS
Notes to editors
For enquiries, email jack@prmediaco.com or tara@prmediaco.com.
Kenshō Ornos newsroom and media gallery: https://kensho.prmediaco.com/
Kenshō Psarou newsroom and media gallery: https://kensho-psarou.prmediaco.com/